Truong Thanh Farm Hai Phong - Interesting village of the dwarves
In the middle of a stuffy, dusty street full of busy car horns. In Hai Phong, there is an eco-zone that allows you to "hide" into a relaxed, calm, and uncluttered fairy tale world when you are tired. Let's explore the door to childhood with the miniature Hobit dwarf village and the wonderland in the middle of the Great Wall of Hai Phong Farm right now.

Where is Truong Thanh Farm located?
Located in Truong Thanh commune, An Lao district, Hai Phong. The ecological area of ????over 7 hectares is located on the Lach Tray river. Surrounded by lakes, large green meadows, is an ideal address for family and friends to go out and camp on weekends.



Directions to Truong Thanh Farm
The farm is located about 15km from Hai Phong city center, follow Highway 10 in the direction of Hai Phong - Thai Binh, 100m across Tram Bac bridge, turn right into Truong Thanh commune, follow the road with king areca groves, continue 200m turn right The entrance to the communal house of culture and then go straight to Cong Don dike, look to the left, 100m away, you will see the farm.




Admission price of Truong Thanh Farm?
+ Adults: 80,000 VND.
+ Children over 5 years old: 50,000 VND.
+ Children under 5 years old: Free.

What is special about Truong Thanh Farm?
When coming to this place, you will admire the extremely unique landscape with extremely unique architectural features. Inspired by dream fairy gardens, Truong Thanh Farm Hai Phong transforms a livestock farm into a unique and dreamlike wonderland. Make you feel like you are a little girl lost in a mysterious, enchanting wonderland with countless mysteries waiting for you to discover.

Lost in this natural ecological area in Hai Phong , you think you are like little Alice lost in a mysterious, enchanting wonderland with countless mysteries waiting for you to discover.
If you are a fan of the Lord of the Rings movie and want to see the Hobbit village firsthand, here you can check in virtual living with beautiful houses exactly like the ones in the movie. The small houses nestled in the hillside, the peaceful and poetic scenery will bring you adventure like in fairy tales.

Truong Thanh Farm stands out with many artistic and architectural landscapes without losing the simple beauty of the countryside. Besides the village of Indians, the village of the hobbit , the house on stilts on the tree, the terrace with the cultural style of many countries in the world, Truong Thanh Farm still retains the orchards such as longan, lychee, etc. guava, mango, grapefruit, jackfruit, orange... or other valuable ornamental and flower plants.

At Truong Thanh Farm, colorful seasonal flower fields give you the freedom to live virtual. These are sunflowers, buckwheat flowers, lotus flowers, mustard flowers, water lilies, ... creating a virtual living space as beautiful as the "original" that you can't resist.

In addition to the farming model, the Great Wall also has a farm that raises a lot of interesting animals for you to explore, such as raising ducks, wild boars, chickens, crocodiles... If families bring children here , the kids will surely enjoy.

Not only is there a very poetic virtual living space, for those who just want to have a peaceful weekend with friends or family, they can relax with activities: fishing, cycling, or maybe with friends Camp overnight here. Surely, you will have wonderful relaxing moments.

All these things make each moment at Truong Thanh Farm become more poetic and magical. Passionate about exploring Truong Thanh Farm, you will pass by one surprise after another, you will not only feel lost in a fairyland, but sometimes even think that you are traveling in the countryside. in a beautiful country of magnificent Europe?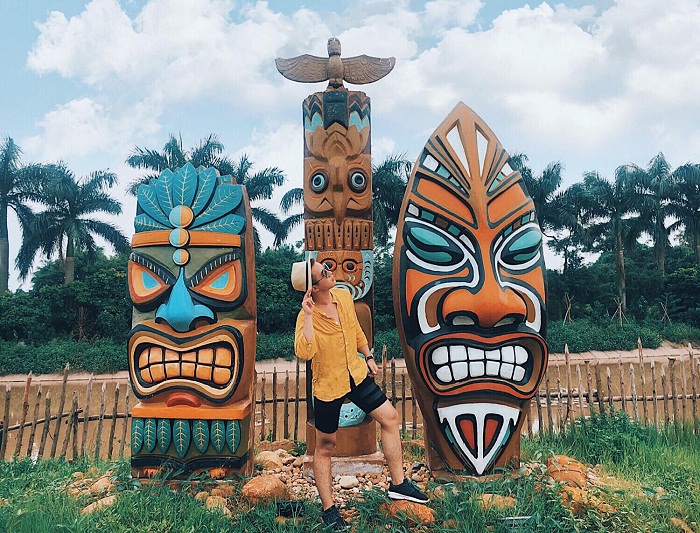 Every moment wandering in this country, your heart is filled with the joy of childhood days.
Photo: halotravel.vn
Because of all the interesting things that Truong Thanh Farm brings, you will probably just want to stay here, want to temporarily forget the noisy and bustling city, and want to leave all the worries behind. Immerse yourself in this dreamland, take refuge in the fairyland of Truong Thanh Farm .
This place brings you peace, serenity and comfort. No need to think about anything, no need to worry about anything, here is always full of joy and optimism, love life. A simple and idyllic world, but enough to make people's hearts sob and vibrate.

If you have the opportunity to travel to Hai Phong , do not miss this attractive and new place. Because there are beauties, only when you experience it yourself, you can fully understand it. Reality will help you understand that what has been described is only a very, very small part of that beauty. Come and feel Truong Thanh Farm Hai Phong!